We are well in the double digits part of the countdown!
I consider this the beginning of the Halloween season,
so shopping & planning are in full swing!
First of all - the Secret Reaper
sign ups
are happening over on the HalloweenForum! Seriously, you've got to check it out. Basically you sign up (you have until Aug 14) and put together a list of likes / dislikes to post in the thread. Then you wait. The coordinator then sends you the name & address of another person who signed up (your "victim") and you send them a gift, based on their likes / dislikes list. The fun part is not knowing who has who has your name or what they'll send! The creativity of some of the members over there is amazing! I've gotten some really awesome gifts over the years.
Another good thing about the Halloween Forum is people start posting what stores are starting to stock the H'ween goodies! That means you can get an idea of where you want to go first.
That inspired me to go to Big Lots & get my skeleton flamingo!
I did not know I needed one until I saw someone post about it.
It's kinda wonky, tho. The foot that's lifted is turned a good 90* from what it should be.
I guess if it bothers me too much, I could heat it up & twist it or something. Bah.
I liked this face-palming skeleton on the small headstone, too.
Since I have Beagle skeletons - I needed the bunny!
I got this at JoAnn Fabrics. Funny thing that last year I was trying to figure out a fox to go with my hunt scene with the horse - this year they have a fox, too!
There's only one new headstone in the works this year.
Lorenzo & Gertrude Fortiac.
The plywood sheet is 2 foot high by 4 foot wide and it's going to be car themed - in memory of the 2 cars Miss Angela has totalled (Ford + Pontiac = Fortiac). The licence plates are plastic blanks I found online for $2 each & the letters are vinyl decals from Lowes. She actually named her cars, so the license plates are appropriate. Now I just need to figure out a shape.
The big project of the year, I don't have pics of yet. Or even supplies, other than a gallon can of reddish brown exterior 'oops' paint. The plan is to build a shack, using the window that I found curbside a couple weeks ago. Randy & I were having a discussion in Lowe's this weekend about what type of plywood & framing would be best.
So it's not going to be like a witch's shack. More like a house for the crazy cat ladies.
The flamingo will work nicely in front of it!
It'll also incorporate this spool I picked up outside a cable / fiberoptic supply place.
Random selfie - in the floral department at Hobby Lobby.
Last week we went to Zombie night at the local baseball park.
Angel happened to be working & she impressed a lot of people with her makeup skills - they thought her bruises were real!
We got T-shirt, face painting & "undead" drinks with our tickets.
The Dance Crew did Thriller, of course. Angel's in the back row, 2nd from right.
Speaking of bruising - if you need some inspiration - I got you!
Back story - I belong to the new Lapeer County Sheriff's Department Search & Rescue Team. And as a PR thing, the sheriffs recruited us to help out at the Eastern Michigan State Fair, patrolling the parking lot.
Me & Kisses
So - we got to the staging area & as I went to get on the lovely Miss Kisses, she spooked at something and took off - I flipped over her back & hung upside down, clinging to her side on as she rapidly crossed the very large, very cement parking lot. I swear my guardian angel was working overtime, since I managed to hold on until she made it to the grass - that's when I fell.
In front of the Lt. and 3 deputies.
Of course.
And to top it off, later when we'd been roaming around the parking lot for more than 2 hours, my sister and I (I joined the team with her, using her horse) decided to take a break. So we got down & hung out by the main gate of the fairgrounds with Lt and one of the deputies and their horses. The problem now was that Kisses is a tall horse & I have a bum knee. So I used the bumper of a nearby truck to get back on. But as soon as I stepped into the stirrup, I rolled my ankle & almost fell off the damn truck! Again, right in front of Lt.
So let's do a summary of my injuries of the evening. Huge lump & colorful bruising on my inner left forearm / wrist, likely from the front of the saddle. Sore left shoulder. Large bruise on inner right thigh (from the stirrup maybe?) Large bruise on the back of left calf, probably from the back of the saddle. I just discovered that today. Both ankles are tender, the left one that I rolled more so. Which leads me to believe when I landed in the lawn, I went down heels first since my backside is happily OK!
It's really sad that the most excitement of the evening wasn't the redneck fair crowd -
it was me!
I promise I CAN ride a horse and am NOT an incompetent dork.
I'm sure the story has made the rounds & everyone will be watching me at the next training session.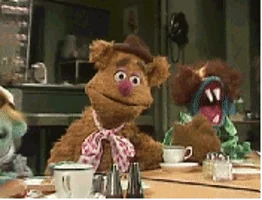 Sorry about that tangent - what do you have in the works?